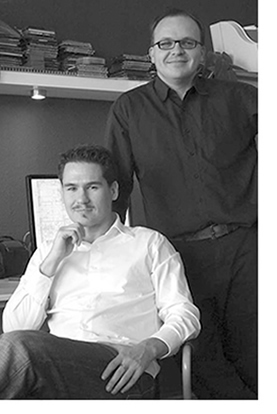 A1 Építésziroda Kft. led by the architects Fazakas Bálint and Kürtösi Péter, was established in Budapest in 2005. The main activity of the office is architecture and interior design.
Fazakas Bálint graduated from the Budapest University of Technology and Economics (BME),  Department of Public Buildings, while Peter Kürtösi finished the Hungarian University of Applied Arts (today MOME), Department of Architecture.
In recent years, our office has gained a remarkable experience in the field of spa design and we create plans of numerous public buildings, detached houses of a high standard and commercial units, which were accompanied by technical supervision up to their realization.

Our current works include the general design of the Győr City Water Park with a surface area of 60,000 m2.
The construction of a 138-unit condominium in Bacsó Béla Street in Budapest is under construction. The expected handover will take place in 2020.
Our most important project, the Kecskemét Competition Swimming Pool and Waterpark containing 17 pools on 13,000 m2 has been working since 2010. The building in 2012 won the Media Award for Architecture.
In 2011, we created the Szerencsejáték Zrt. Lottery's new Interior Design Identity Handbook, which was followed by various different lottery construction plans.
From 2011 on, our office has been working with Erste Bank Hungary Zrt. Up to the present day, several branches and a Private Banking office have been designed by us. The new lobby of Erste Headquarters has also been created on our plans.
Since 2008, we have been working constantly for Szamos Marcipán Company.
Our office regularly take part in architectural design competitions winning a great many prizes and purchases.
Our working method is built on the systemic approach of the project, exploring inner correlations. One significant part of the planning process is to find the important design aspects of the project. Different tasks need a special order in design preferences. The architect is responsible for the proper sequencing of these preferences.
A responsible architect has to manage the financial aspects and the technical feasibility of the project in a complex way to place it on a sound foundation. By keeping the creative design process under constant control, we are working not just on an idea but also on a physically implemented piece of work, where our final aim is to create it in the highest quality.
| | |
| --- | --- |
| A1 Építésziroda Kft. 1112 Budapest, Rétkerülő út 20. e-mail: a1@a1epitesziroda.hu mobil: + 36 30 545 9779, + 36 30 304 8944 | |